Gallbladder Removal Surgery Mumbai
What Exactly Is a Laparoscopic Cholecystectomy?
Laparoscopic Cholecystectomy is a procedure that removes the gallbladder via small incisions on the abdomen rather than a single major incision. The gallbladder is a small pouch located under the right side of the liver. The main function of the gallbladder is to collect and concentrate a digestive liquid (called bile) produced by the liver. Bile is released from the gallbladder and transported to the small intestine through bile ducts which helps in the digestion process by breaking the fats. Book an appointment with Dr. Chintamani for Gallbladder Removal Surgery in Mumbai.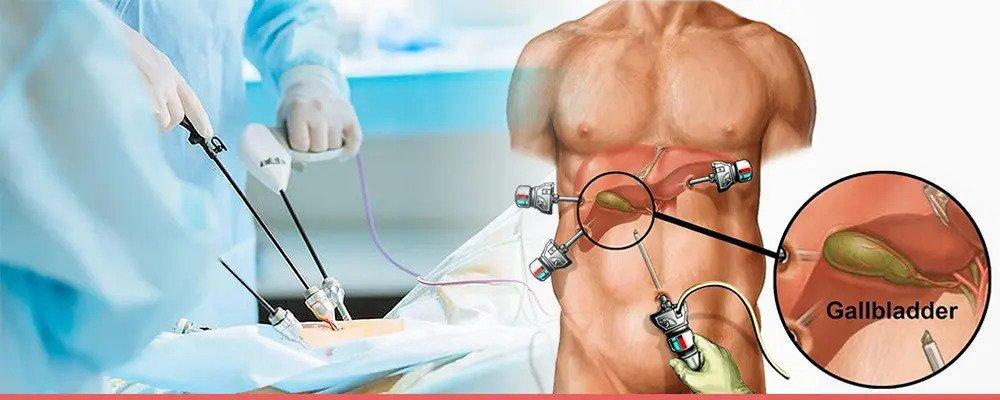 What conditions require a laparoscopic cholecystectomy?
Laparoscopic Cholecystectomy is indicated for the following reasons:
Cholelithiasis (stones in the gallbladder)
Choledocholithiasis (stones in the bile duct)
Cholecystitis (inflammation of the gallbladder)
Pancreatitis caused by gallbladder stone
Who is eligible for Laparoscopic Cholecystectomy?
People who can have a Laparoscopic Cholecystectomy include:
Individuals who are experiencing significant back and upper-right abdominal discomfort.
People who are experiencing stomach pain.
Individuals with yellow skin and eyes [Jaundice].
People who suffer from fever, sweats, chills, or nausea.
What is the procedure for Laparoscopic Cholecystectomy?
The surgeon will make three or four small incisions in your abdomen while you are under general anesthesia. The laparoscope will be introduced via one of the incisions, and medical devices will be put through the other incision. The abdomen is expanded with gas, allowing the doctor more space to operate.
The surgeon will cut the duct and blood vessels that lead to the gallbladder, then remove the gallbladder with the laparoscope.
Most patients have minor incision soreness, nausea, and possibly shoulder pain for a few days after surgery, but most return to regular activities within a week.
What are the benefits of laparoscopic cholecystectomy (Gallbladder Removal Surgery)?
Removes gallstones and alleviates discomfort
Reduces inflammation
Aids in the treatment of various issues caused by gallbladder infection.
No recurrence of the gallstones
How long does it take to recover?
Laparoscopic Cholecystectomy patients may take up to a week to recover completely.
For more information & consultation on Gallbladder Removal Surgery in Mumbai, contact us at 84518 65944 or simply fill in your name and number & one of our team members will get in touch with you soon. Our team of experts along with Dr. Chintamani Godbole, MS, DNB (Surgical Gastroenterology), FRCS (Edinburgh, UK), and Gastrointestinal surgeon will help you out in understanding your problem and guide you through every stage of your treatment. For clinic directions click here.
Dr. Chintamani Godbole
Consultant GI & Colorectal Surgeon
Have questions about our services?